RESTAssure is committed to improving our client's quality of life in the comfort of their homes. Our staff includes health care professionals and skilled technicians who take the time to orient our clients' with their equipment. In short, RESTAssure delivers more than just a product: we deliver and service.
Our staff are valued, empowered and committed. As society ages, the elderly are increasingly seeking assistance at home to maintain their health independence and avoid costly institutional care. RESTAssure is ready to provide this assistance by listening to clients and responding to their needs. We are a company founded on the principals of continuous quality improvement and customer service.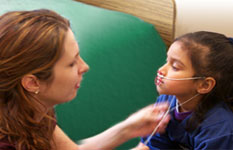 Meeting the benchmark in technology RESTAssure is a home health care company that provides a comprehensive array of services to home care clients including Asthma Management and other products and services.
Excelling in client care planning, evaluating, and implementing services. RESTAssure is recognized as a leading private home health care agency. We maintain this leadership position by working closely with physicians, medical facilities and government health agencies in developing programs to better service our clients.
RESTAssure has positioned itself as a leader by providing value added services to their clientele. This includes services after business hours and on weekends. Meeting patient's compliance is achieved by providing a holistic approach to patient care. Tracking patients on-line with their treatment and follow-up care between home care company, physician and patients is a goal for RESTAssure.
Visions
A recognized leader in the provision of respiratory health care and services, RESTAssure continues to expand its Client Care Services.We will maintain standards of excellence with all our Clients and strive to achieve Superb Quality in customer care.
Continuous quality improvement initiatives, educating the public, advanced technology and funding, related research and development, will increase the return on investment with the patients that RESTAssure services. Our research and development will be dedicated to the pursuit of innovative solutions for the prevention of illness, and leading edge treatment interventions in Home Health Care.
Our Values
Human Dignity :

Each person is a whole person, with the right to acceptance and respect. We do not discriminate based on age, gender, disability, religion, color, creed, race, sexual orientation or marital status.

Art of Caring :

We dedicate ourselves to a holistic approach to wholeness and healing.

Excellence :

We strive for excellence in client care services, continued education, professional research and continual improvement in the quality of work and life.

Empowerment :

We value each member of our team as unique individuals.

Commitment :

We see ourselves as an integral part of the healthcare community, working together to promote the wellness, healing and fulfillment of the human spirit.

Teamwork :

We promote a spirit of teamwork by empowering the exchange of ideas, providing a positive support system continually improving the quality of work, life and continued happiness.

Socially Responsible :

Ensuring that all clients who demonstrate a financial need for treatment do receive treatment.